School Info
Michael Angaiak
Elementary Principal
michael.angaiak@k12northstar.org
451-7500 x27510
Address
1501 Hampstead Ave
Fairbanks, AK 99701
School Hours
Students: 8:30 am - 3:00 pm
Office: 8:00 am - 3:30 pm
Announcements & Upcoming Events
Anne Wien "Citizen Scientists"
Our Anne Wien River Otters are in the news again! Check out our "Citizen Scientists" and some of the work they have been doing with scientists at UAF in the following link.
Update: Phone Access
Wednesday, May 6, 2015
In response to anonymous threatening phone calls that have disrupted operations at various schools, district schools will no longer accept calls from anonymous numbers.
This action was taken at the recommendation of law enforcement agencies, which are investigating the recent calls.

Callers with anonymous numbers can reach schools by taking steps to display their numbers prior to calling a school or by calling the administrative center at (907) 452-2000, which will serve anonymous numbers.

Early Dismissal Days
May 19, 20 and 21 are school-wide early dismissal days. All students will be dismissed at 1:30 p.m.
Fall 2015 New Student Registration
It's time to register for the Fall 2015-16 school year! If your child will be a new student at Anne Wien please come in and register them between 9 a.m. and 3 p.m. Please bring your child's birth certificate, shot records, and proof or residency with name and address in order to register your child. Your child's birthdate must be on or before Sept. 1st, 2010 to register for the fall kindergarten. Each kindergartener will receive a summer fun pack when registering while supplies last. We look forward to meeting our newest river otters!
Anne Wien students learn finance from bankers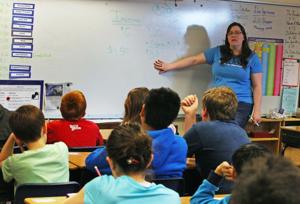 FAIRBANKS — Students at Anne Wien Elementary School received an impromptu education in banking, both the piggy variety and the FDIC-insured variety, Tuesday.
A group of staff members from Denali State Bank took a break from their regular work schedule to spend the day teaching students lessons on banking and personal finance. The bankers spent the entire day at Anne Wien, going from class to class, from kindergarten through sixth grade.
Read full article
New Teacher Evaluation Process
Parents and community members can learn more about the new teacher evaluation process and provide feedback to the district administration at the link below.
Statewide AMP Tests Coming in April
In April, all 3rd-6th graders across the state of Alaska will be taking the Alaska Measures of Progress (AMP) assessments. These standardized tests will, for the first time, be computer-based. To ensure that all students have access to a laptop to take these assessments, testing will be spread out over a 2-week period in April. Thank you for ensuring that your child is here at school for these mandated assessments. Here is Anne Wien's testing schedule:
AMP TESTING SCHEDULE:
April 1: Language Arts Testing for Grades 3 & 5
April 2: Math Testing for Grades 3 & 5
April 3: Science Testing for Grade 4

April 6-7: Make-Up Testing
April 8: Language Arts Testing for Grades 4 & 6
April 9: Math Testing for Grades 4 & 6

April 13-14: Make-Up Testing
In the news!
Check out Anne Wien Elementary in the news - Students Fly Drones.
Go to the 1-28-2015 broadcast and the Anne Wien feature can be found at the 4:01 mark.
We Are A Title 1 School
Please click on the link below to review this informational brochure about Title 1 schools. Thank you.
Breakfast Starts at 8:10 AM
Morning Recess from 8:10-8:30 AM
All students are invited to Morning Recess on the playground starting at 8:10 AM each day! This is a great way to start the day and play with friends. Adult supervision will be on the playground from 8:10-8:30 AM.
School Doors Open at 8:30 AM each day
Our school doors open at 8:30 AM and students are marked tardy after 8:35 AM, so thank you for having your children here at school on time ready to learn with their teachers and classmates each day!
Anne Wien's Parking Lot Plan
To keep our student safe and the traffic flowing smoothly here at Anne Wien, we have a special parking lot plan for our cars and school buses. Please click on the link below to download the parking lot map and directions, so you know where to drop-off and pick-up your child each day. Thanks for driving slowly and safely here at Anne Wien!
Needed: Recess Duties
School Funding and Borough Fact Sheet
Please click on the PDF link below for more information on current school funding, borough facts, and important dates. The assembly will be taking public hearing on the budget on May 1 beginning after 6p.m.
Box Tops and Labels for Education
Please continue to save and send in box tops and labels for education!